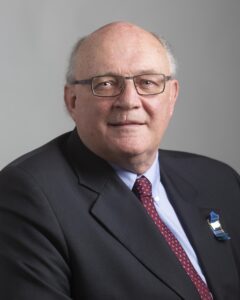 Nova Scotia's Chief Medical Officer of Health was named first recipient of the Peace Halifax Ambassador of Peace Award in recognition of the care, compassion and clarity he has provided to Nova Scotians throughout the COVID-19 pandemic.
Two years ago, few Nova Scotians could have named Dr. Robert Strang, a public health official who is now beloved and renowned for keeping the province's case counts under tight control.
The award was announced by Mayor Mike Savage at Peace Halifax, a one-day festival held at the Halifax Central Library in honour of the United Nations international Day of Peace.
The Mayor read an excerpt of the award citation which stated:
"During a time of unprecedented uncertainty and chaos you've been the calm at the centre of the storm. In the face of anxiety and worry you've been the voice of reason and kindness. Your focus on the science calmed our minds, but it's your principles and your commitment to truth that spoke to our hearts. You've brought peace of mind and a sense of purpose to so many during this challenging time and we are honoured to recognize you with this award.
Dr. Strang, thank you for being such a beacon of peace and hope and for taking such good care of our province."
The Mayor's remarks took place at the opening of Peace Halifax's 2021 Concert for Peace, featuring performances by Rose Cousins and Zamani. The free public event took place in the Halifax Central Library's Paul O'Regan Hall.